Congressman Raskin Recipient of 2022 Judith Heumann Champion of Justice Award
Baltimore, MD – Congressman Jamie Raskin (Maryland's 8th District) has been named the recipient of the 2022 Judith Heumann Champion of Justice Award. The award's namesake, Judith "Judy" Heumann, will present the award at Disability Rights Maryland's (DRM) Breaking Barriers Awards Gala on Thursday, May 12, 2022.
The award was established in 2020 to recognize internationally renowned disability rights activist Judy Heumann, whose historic accomplishments were profiled in the Oscar-nominated Crip Camp: A Disability Revolution, a documentary that was executive produced by Barack and Michelle Obama. Wade Henderson the inaugural recipient of the award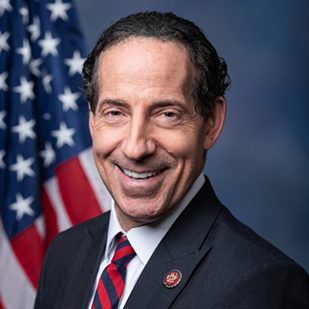 In honoring Congressman Raskin, DRM applauds and acknowledges his lifelong commitment to the advancement and legal protection of rights for people with disabilities at the intersection of the national struggle for equal justice. This deep commitment is evident through his life's work, and most recently as a member of the United States Congress, where he has represented Maryland's 8th District since 2016, and formerly as a member of the Maryland State Senate, where he represented Montgomery County from 2007 to 2016.
Through concurrent legislation supporting civil rights and liberties such as same-sex marriage, Congressman Raskin introduced and supported legislation aimed at advancing the rights of people with disabilities across many spheres including supporting voting rights and accessibility of the election process, securing funding in support of independent living, and protecting Social Security benefits of children with disabilities in foster care.
Congressman Raskin's disability rights activism has had an exponential impact as seen in the Thomas Bloom Raskin Act, which was recently passed by the Maryland General Assembly to increase access to emergency mental health services across the state.
Please join us in honoring Congressman Raskin for his extraordinary service to people with disabilities at the 2022 Breaking Barriers Awards Gala on Thursday, May 12. Subscribe to our newsletter below to receive updates as the other awardees are announced, and to reserve tickets.
Join our mailing list to receive updates about Disability Rights Maryland.