Vote My Sisters!
Vote My Brothers!
Vote My People NOW!!
This chant and others rang out from the streets of Washington, DC today as a proud group of disability activists marched the final leg of their 5-day journey from Baltimore's Inner Harbor to the Capitol Mall, where others were awaiting their arrival. A core group of marchers from various states, led by Maryland ADAPT, completed the entire nearly forty-mile journey, camping overnight along the way.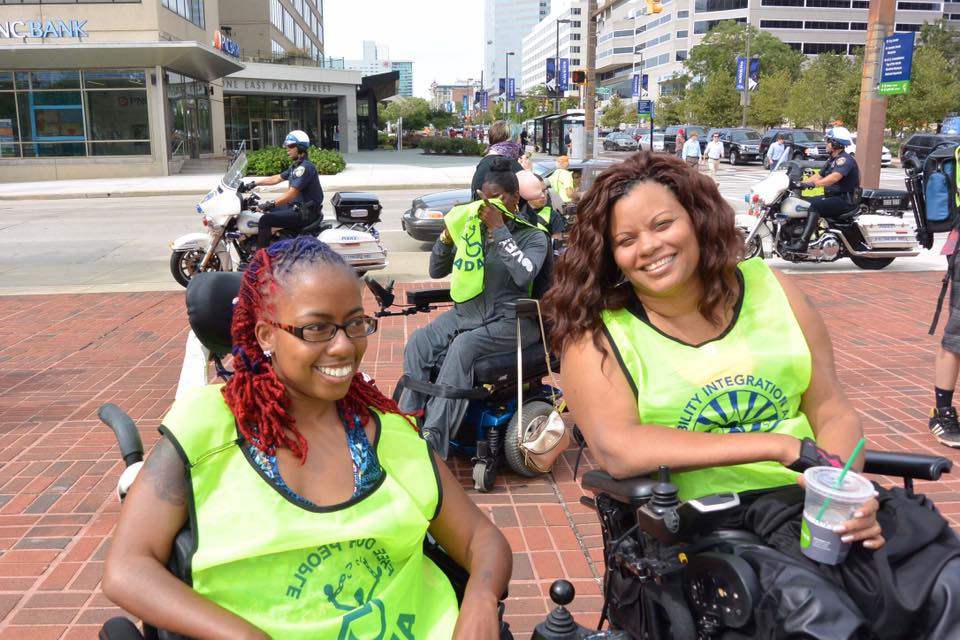 As we marched the final leg this afternoon, the realization struck me that our march was an expression of love. Love of freedom, of civil rights, democracy, and humanity. And for each other. Our march today was much more than the culmination of a five-day ADAPT action. It has roots extending to the disability rights actions of the 1970s. It was the brainchild of Crosby King, organizer of Maryland ADAPT, and was inspired by ADAPT's 2003 Free Our People March from Philadelphia to DC, in which he participated along with the love of his life, the late Gayle Hafner. Gayle's memory is a big part of what made this march a labor of love.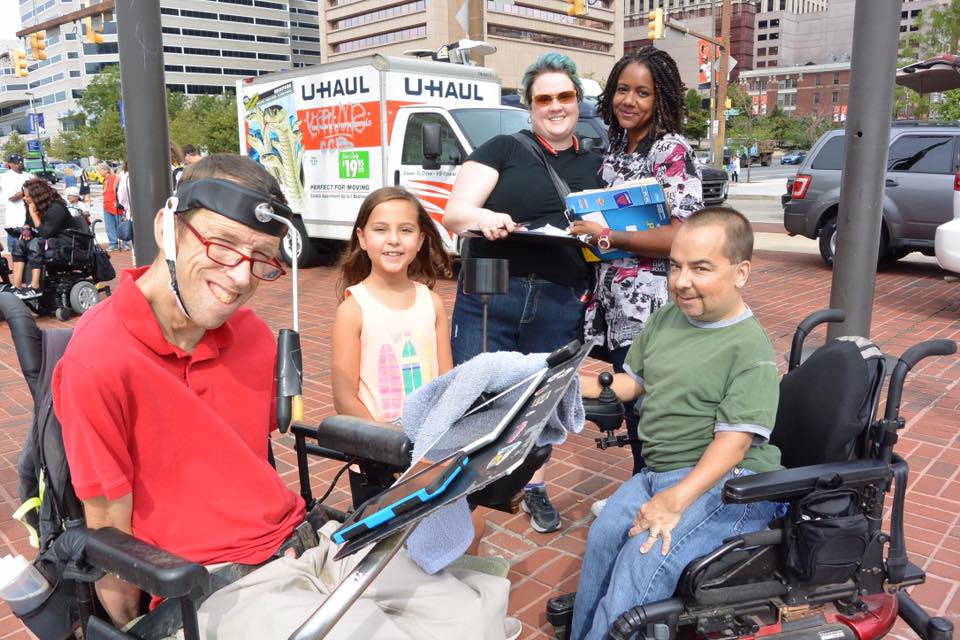 But the love that resulted in the 2016 March also encompasses disability rights, liberty and justice. Since Crosby began speaking of this march a couple years ago, he has been motivated by a desire to keep the disability rights movement vigorous and powerful, and to engage younger folks with disabilities who are coming up in the post-ADA era. He was always especially interested in drawing attention to voting rights and the disability vote.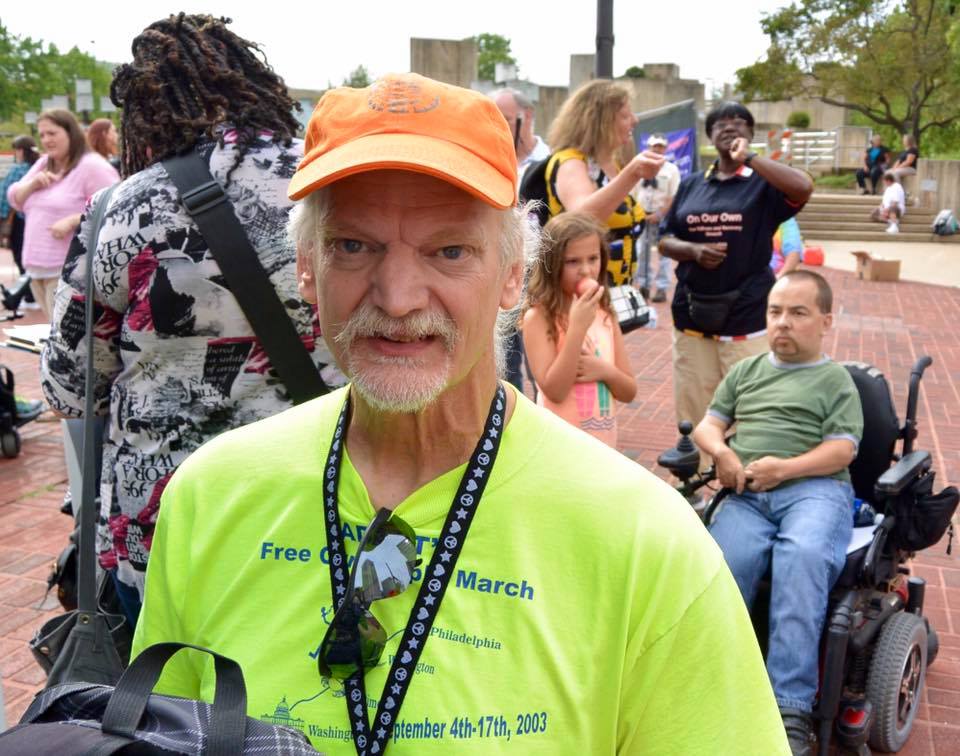 And the love spread; for example to Lauren Young who participated in the full five-day action and brought in her son, Dylan, who captured the march on video. To the Sorensens: Little John and Sarah, and their precocious daughters, Amelia & Sophie. Sarah did an incredible amount of work these past five days, as did Crystal Brockington. I rarely saw any of these three women stop working, nor did I see them lose their smiles. I cannot name all the people I saw pitching in and helping to make this march a success without inadvertently leaving someone out – but I saw a lot of love.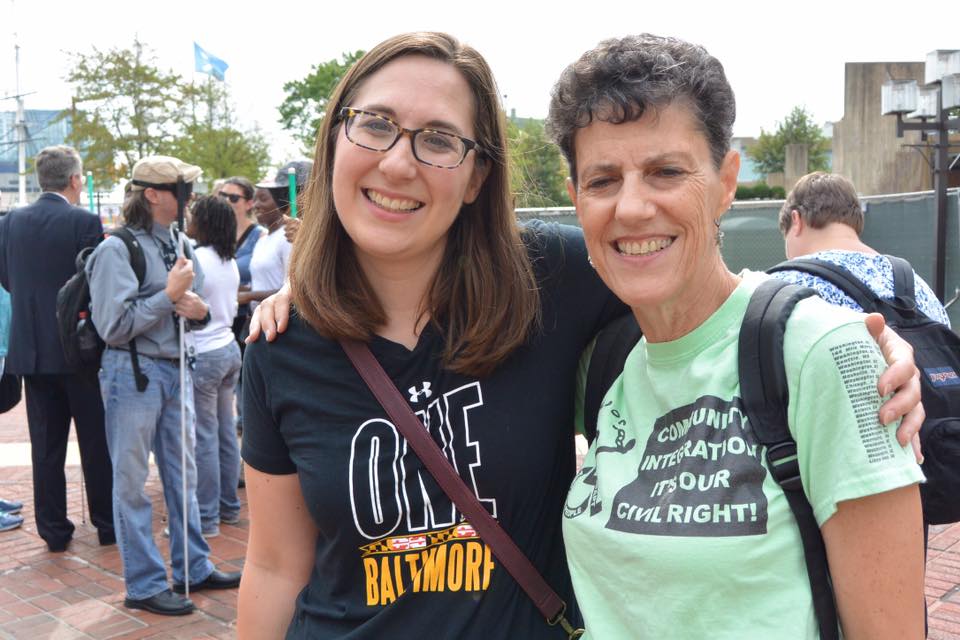 Five days of marching, camping, and continually organizing dozens of moving parts, becomes wearing. People had to get to know each other, and be able to disagree. But everybody came together and kept moving in the same direction, because the movement is bigger and more important than any one person.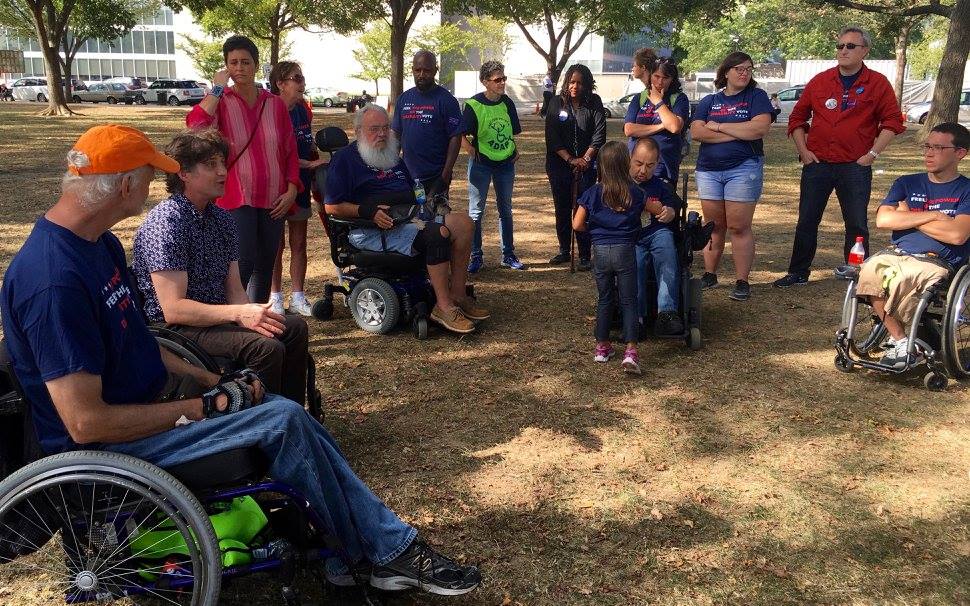 And eventually we arrived at the Mall, ahead of schedule. There, on a beautiful September afternoon, in plain view of the steps where the Capitol Crawl occurred a little over 25 years ago, we held our rally. The speakers spoke with passion and heart – love – about the critical importance of the disability vote to maintaining the rights so many of us have fought to secure – some of whom are no longer with us. Our rally speakers were Michael Bullis, Nikki Fletcher, Charlie Miller, Amity Lachowitz, Tony Wright, Andy Imparato, Heather Mizeur, Jonathan Young and myself (with my dog, Jackson). We were also truly honored by the elevating presence of Yoshiko Dart, accompanied by the memory of her love, Justin Dart.
We marched and rallied because we treasure our hard-won civil rights, and understand that we must use them to full advantage. We know that our rights are at risk, and could be diminished with a few strokes of the pen. We recognize that every election cycle, there have been increased efforts by political candidates to acknowledge and directly address people with disabilities, and offer policy agendas aimed at improving our lives. Our march is our message to our disabled sisters and brothers that we must sustain this momentum with a strong showing at the polls. Voting is our best line of defense against disability erasure and marginalization. Our vote is our voice.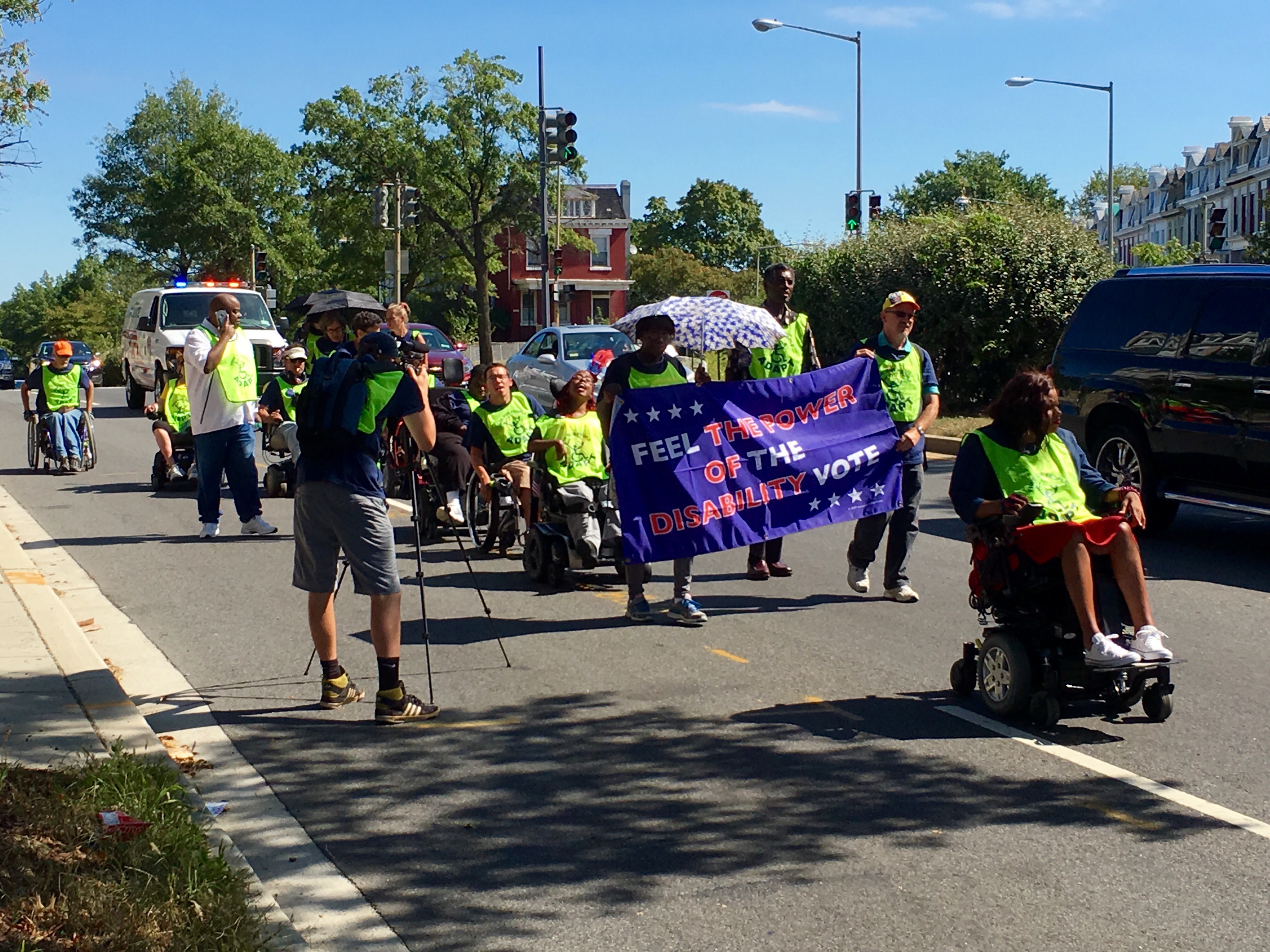 This Presidential Election Year has been remarkable for the magnitude of hatred that has been unleashed in the political discourse. It has been truly frightening, but the disability community will not cower in fear. We will fight for our rights, and for those of our sisters and brothers who are institutionalized, incarcerated or otherwise isolated – with One Big Love that will stamp out hate. Like an offering and example to the world – people with disabilities leading the way. That is what I witnessed these past five days.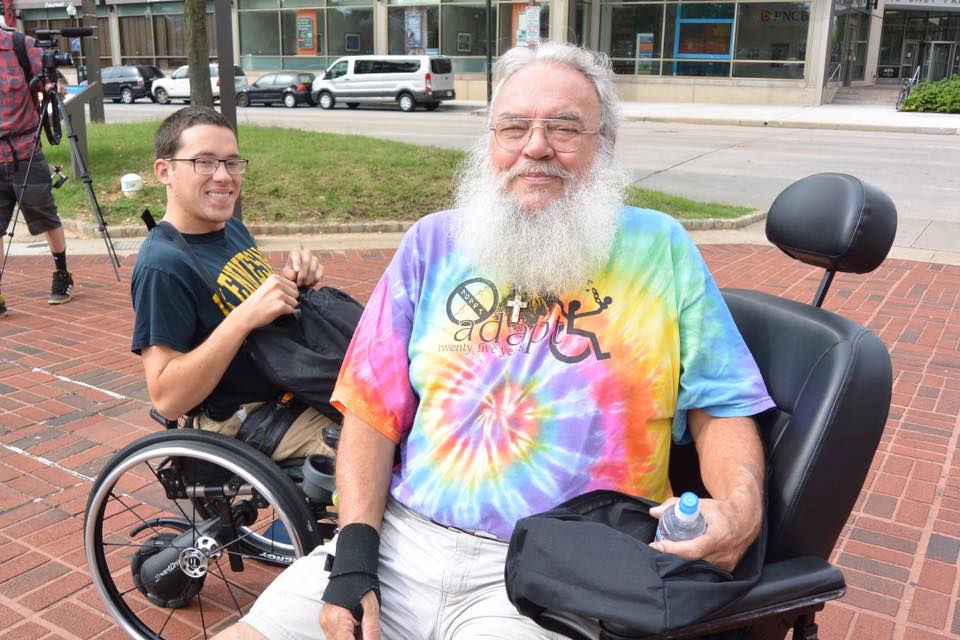 Those who participated in most if not all of the 5-day march from Baltimore to DC include: Joanie Bacashaihua, Erickia Bartee, Dylan Bechill, Tara Booska, Amy Bopp, Crystal Brockington, Corey Cauley, Bong Delrosario, Nikki Fletcher, Cheryl Gottlieb, Carol Jones, Doug Jones, Ericka Jones, Crosby King, Amity Lachowicz, Paula Lafferty, Patrick McMurtray, Charlie Miller, Shannon Minnick, William Ramirez, Levita Rouse, Amelia Sorensen, John Sorensen, Sarah Sorensen, Sophia Sorensen. Mark Sweatman, Jill Truzzolino, Lisette Willis, Lauren Young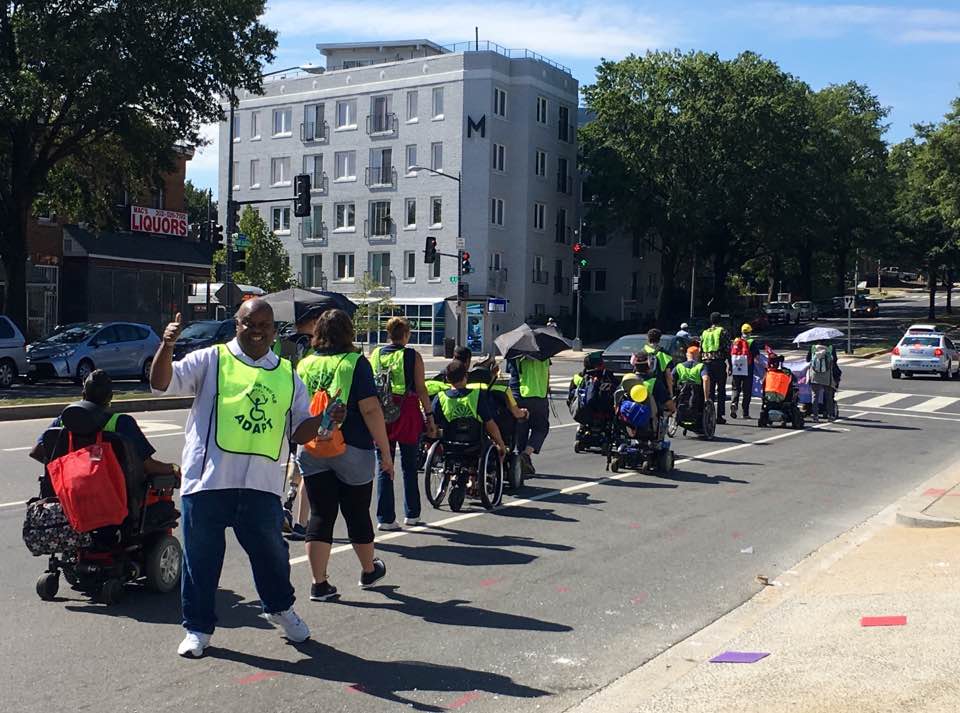 Lead On!
Virginia Knowlton Marcus
Sept. 25, 2016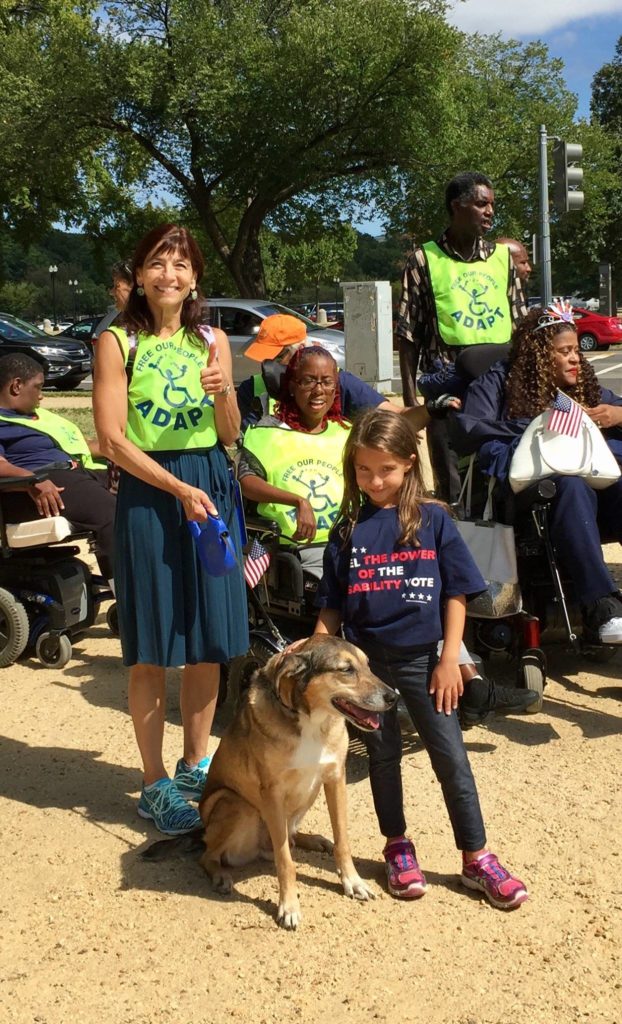 DRM celebrates this dedicated group of self-advocates who traveled 38 miles from Baltimore, MD to Washington, DC to raise awareness of the disability vote! Starting in Baltimore's Inner Harbor on Sept. 21st, the advocates completed their journey to the National Mall in DC on September 25th.
Thank you to ADAPT and all of the participants and volunteers who made the Feel The Power March a success!
Media Coverage – WMAR Baltimore
CBS Baltimore WJZ