Disability Rights Maryland (DRM) celebrates Caitlin McAndrews and the McAndrews Law Offices, P.C. for their compassionate representation of DRM's clients at no cost to the families in the area of special education.  This past year alone, Ms. McAndrews and McAndrews Law represented six children from DRM and furthered their special education claims.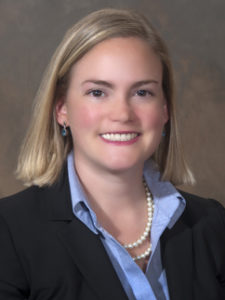 Based originally in Pennsylvania, McAndrews Law has grown from its modest beginnings in 1983 to include 4 offices in Pennsylvania, 2 offices in Delaware, and an office in Alexandria, Virginia that serves Maryland and Washington, DC clients. McAndrews Law provides services not only in special education law, but in estate planning, administration and probate for individuals with and without disabilities, elder law, long-term medical care planning, guardianship, and personal injury.
Caitlin McAndrews began working at McAndrews Law Offices, P.C. when she was still in high school. From that experience, she developed a keen interest in serving people with disabilities and became a special educator in Pennsylvania. She went on to pursue her J.D. at George Mason University School of Law, and now practices in the area of special education law and estate planning, including special needs trusts and powers of attorney.
McAndrews Law Offices, P.C. requires its attorneys to engage in community outreach by providing free presentations to groups, participating in legal walk-in clinics, and attending presentations for educators. Although none of this time is billable, it helps to advance Caitlin and her fellow attorneys as advocates.
Caitlin looks for the mutual benefits in her pro bono service – the win-wins. She has found that pro bono work helps to expand her skill-set and practical knowledge in special education law. Without the constraints of a typical, hourly fee arrangement, Caitlin finds clients are willing to consider creative solutions to problems and Caitlin feels more freedom to plan her advocacy accordingly. Her clients appreciate her time and efforts, and this, in turn, fulfills Caitlin's desire to serve others. DRM is thrilled and grateful that Caitlin McAndrews participates in DRM's Pro Bono Program to serve families in need and improve lives.
A Recent Success Story!  Caitlin stepped in to represent Spencer, an 18 year old student with Autism Spectrum Disorder. The school had scheduled Spencer for graduation even though he could not perform many simple life skills such as tying his shoes. In addition, the school had failed to develop a transition plan for Spencer to pursue a career or pursue post-secondary education. Caitlin and her team were able to obtain evaluations (some independently derived and some through the School District) and $8,000 in compensatory services, extend Spencer's eligibility to remain in school through the age of 21, and secure Spencer's enrollment in a much-desired technical training program.