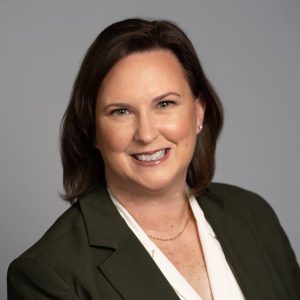 A MESSAGE FROM THE BOARD OF DIRECTORS:
It is with great excitement that we announce the appointment of Meghan Marsh, a 30-year veteran of the organization and dedicated disability rights advocate, as Disability Rights Maryland's (DRM) next executive director. Meghan was selected after a national search performed by DRM's Board of Directors.
"Meghan has been at the heart of DRM's mission for 30 years and her dedication, passion and unwavering commitment have been the driving force behind so many of DRM's achievements. We could not be more thrilled to have her as DRM's new executive director, leading us through this next exciting chapter in the fight for disability rights and justice," said Ryan S. Perlin, president of the DRM Board of Directors.
Meghan will be a familiar face to many as she has served DRM in several roles since joining in 1993. Most recently, she served as interim executive director since May. Her previous roles include intake specialist, staff attorney, communications manager, and deputy director. In the latter role, she led grant reporting and quality assurance. She also supervised DRM's intake team and projects aimed at protecting the rights of Social Security beneficiaries with disabilities.
"For three decades, DRM has been my second home, and the fight for disability rights, my life's work," expressed Meghan Marsh, DRM's executive director. "I have tremendous respect and admiration for the entire team at DRM. With kindness, courage, and persistence we can forge a future where every individual thrives, and so it is with great excitement and gratitude that I step into the role of executive director."
Meghan holds a bachelor's degree from Penn State University in social work and earned her law degree from the University of Maryland Francis King Carey School of Law. In 2020, she was awarded the Benjamin L. Cardin Public Service Award by the Maryland Carey Law Alumni Board for her significant contributions to furthering the ideals of public service in the law. Meghan is also a certified mediator and a 2014 National Disability Rights Network leadership fellow. She served as an adjunct professor for seven years at the University of Maryland University College Graduate School of Business and Management teaching writing, statistics, and management classes to MBA candidates. 
Meghan will succeed DRM's most recent executive director, Robin Murphy, who served the organization for the past six years successfully leading DRM through years of financial growth and unprecedented demand for services. Her tenure included guiding the organization through the COVID pandemic, navigating multiple challenges while ensuring the non-discriminatory provision of critically needed services for Marylanders with disabilities. Robin leaves DRM in a strong position as a robust statewide disability rights advocacy organization.
"Robin's legacy with DRM will be as someone whose vision for the organization never wavered, and whose decisions were guided by one principled question: is this in the best interest of Maryland's disability communities? The Board of Directors is grateful to Robin for her strong guiding principles and leadership as a steward of DRM's mission," added Perlin.
"Meghan knows DRM's work inside and out and there is nobody more suited for this next chapter," said Robin Murphy, DRM's former executive director. "She's intimately aware of the challenges facing Marylanders living with disabilities today and will bring her innovation and tenacity to addressing those challenges head-on."  
We are so pleased to have Meghan leading the organization into this next chapter. She is committed to growing the organization's strengths of advocacy, outreach and individual representation while expanding DRM's commitment to building an intersectional approach to disability justice.