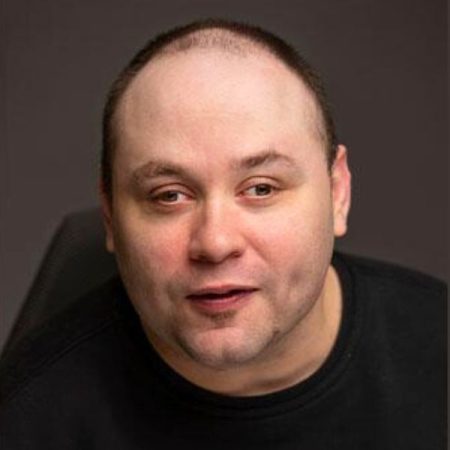 Disability Rights Maryland (DRM) is pleased to announce that Mat Rice, Public Policy Director, People On the Go Maryland, will be the recipient of the Gayle Hafner Grassroots Advocacy Award at DRM's 2023 Breaking Barriers Awards Gala on Wednesday, September 20, at the American Visionary Art Museum (AVAM) in Baltimore, Maryland.
The award's namesake, Gayle Hafner, was a trailblazer civil rights attorney at DRM whose zealous advocacy for full inclusion in every aspect of community life improved the quality of life for people with disabilities. Established in 2015, the award honors community leaders who empower individuals to take initiative, collaborate and drive positive change.
Mat is an inspirational leader who embodies Gayle Hafner's courage, drive and effectiveness.
As the lead facilitator on the Equal Employment Coalition, Mat gathered support from community members and advocates to enact the Ken Capone Equal Employment Act, which abolished the payment of subminimum wages to people with disabilities in Maryland. 
When Mat served as Director of Public Policy at The ARC of Maryland, he was instrumental in their work advocating for people with disabilities, particularly during the legislative sessions. In addition to leading many policy priorities, he led the Empowering Partners Self-Advocacy initiative pilot, which raises awareness about the value of self-advocacy and strengthens self-advocacy groups throughout Maryland.
Mat's powerful public speaking during Maryland legislative sessions inspires people with disabilities and their families to educate Maryland legislators on issues which impact their quality of life. He bravely and selflessly leverages his own personal experiences to rectify the inequities of discrimination against people with disabilities.
To learn more about DRM's Breaking Barriers Awards Gala, visit DisabilityRightsMD.org/Breaking-Barriers-Gala.
###
About Mat Rice:
Mat Rice currently serves as the Public Policy Director and Advocacy Coordinator at People On the Go Maryland. He is a disability advocate and former student at the Maryland School for the Blind and Parkville High School. Mat has served as a support broker and administrative support assistant for Shared Support Maryland, Inc. where he worked for over four years. Mat was formerly the public policy director and project lead for the Empowering Partners self-advocacy initiative at The Arc Maryland. He also served as the public policy specialist for People On the Go. Additionally, Mat served as a board member of Maryland Association of Community Services and MD Works, Inc., and he currently serves as the chair of the Developmental Disabilities Administration Quality Advisory Council.