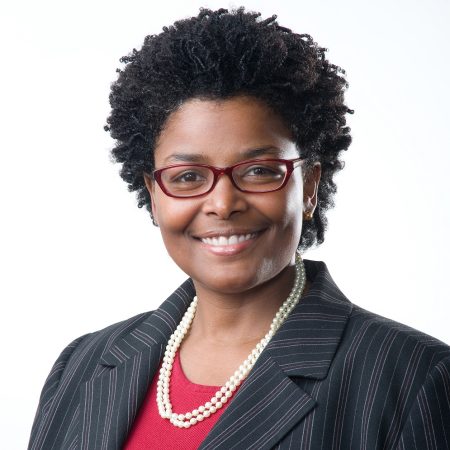 Disability Rights Maryland (DRM) is pleased to announce that Maryland Senator Mary Washington will be honored as a recipient of DRM's Public Policy Leadership Award. Senator Washington will receive the award at DRM's 2023 Breaking Barriers Awards Gala on Wednesday, September 20, at the American Visionary Art Museum (AVAM) in Baltimore, Maryland.
This award recognizes leaders who have shown outstanding commitment, dedication and creativity in shaping and advancing legislation that helps create a more inclusive and just world for people with disabilities.
For over twelve years in the Maryland legislature, Senator Washington's service and leadership in addressing health equity concerns has benefitted numerous Marylanders with disabilities.
In the 2023 legislative session, Senator Washington's sponsorship of ground-breaking legislation, the Trans Health Equity Act, ensures transgender Marylanders with Medicaid, many of whom have a disability, will receive medically necessary, life-saving care. This a milestone in promoting equity and access to healthcare for all.
Sam Williamson, attorney with Disability Rights Maryland, who advocated in coalition for the passage of the Trans Health Equity Act, said:
"Senator Washington is a strong leader who centers the voices of Maryland's marginalized communities. We appreciate her steadfast commitment to creating equity in healthcare for all Marylanders."
Currently, she is a member of Women Legislators of Maryland, holds a leadership position in the Legislative Black Caucus of Maryland, is an Associate Member of the Latino Legislative Caucus, serves as Chair of the Administrative, Executive, and Legislative Review Committee, and serves on the Education, Energy, and Environment Committee after serving on the Judicial Proceedings Committee in the Senate.
To learn more about DRM's Breaking Barriers Awards Gala, visit DisabilityRightsMD.org/Breaking-Barriers-Gala.
###
About Senator Mary Washington:
Senator Mary Washington, born in Philadelphia to two healthcare professionals, has built her life on the principles of hard work and community. After earning her bachelor's degree from Antioch University, she embarked on a teaching career at a Catholic elementary school. Her dedication to serving at-risk students and her drive to understand the needs of urban communities brought her to Baltimore to study sociology at The Johns Hopkins University where she earned her PhD in 1997.
Senator Washington returned to Pennsylvania for a teaching position at Lehigh University and a post-doctoral fellowship at the Population Studies Center at the University of Pennsylvania. Ultimately, Baltimore called her back and has been her chosen home for nearly two decades where she served her city and community in various positions from the Director of the Housing Stat Office at the Housing Authority of Baltimore City, to the Associate Director at the Parks & People Foundation.
In 2010, she made history as Maryland's first openly LGBTQ+ African-American elected official and the second in the country, when she was elected to the Maryland House of Delegates.
Senator Washington was elected to the Maryland State Senate in 2018 and has spent over 20 years working for Maryland's 43rd District as a legislator, advocate, and a student of public policy. In nearly a decade as Delegate and Senator, she has distinguished herself as a leader by fighting for affordable access to water, protecting families at risk of losing their homes to unfair tax sales and foreclosures, making sure Baltimore City schools get the fair and equitable funding they deserve, and helping unaccompanied homeless youths get the services and support they need to succeed. From 2015 – 16, she served as the Deputy Majority Whip. She continued her fight to pass the Water Taxpayer Protection Act, putting an end to the practice of selling homes due to unaffordable and incorrect water bills, in 2019.